Strategic Challenge: Connect Consumers with Lenders
As a facilitator, LeadsMarket.com looks in two distinct directions when considering customer improvements. This process allows us to find ways to innovate the process of both conversion rates and cost-per-funded loan rates. We noticed that, although we were successfully generating leads for many financial institutions, the leads did not always convert into successful loans. We were not satisfied with the overall quality degradation that was inherent in passing off cold leads. We needed to find a way to get active, hot leads to our financial partners in order to increase the chances they would convert into loans. We believe we have the solution.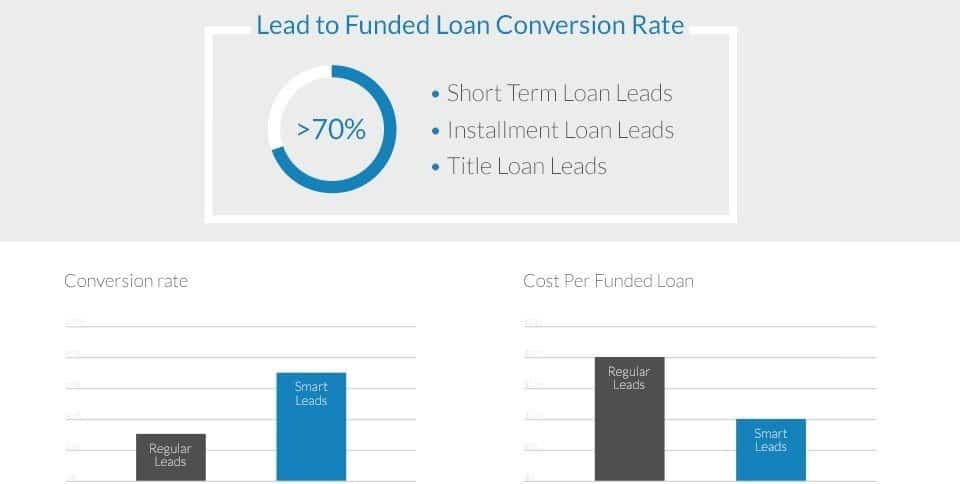 Our Solution
We brainstormed a while and determined that by adding another layer of control to our lead generation process, we could determine which leads were active and therefore more likely to convert to a successful loan. This process allows us to hand live leads off to our lending partners with higher chances of conversion. The new process requires a lead to go through each of our existing preliminary automatic verification stages and then go through our new final layer of control. Once this new final stage is reached, human control is involved and a specialized concierge is engaged to connect the loan prospect with a lending institution's agents.
Our newly revamped process looks like this:
Initial data is collected via web, mobile app, etc. and encounters the first sanity check (location verification);
A crosscheck is performed of collected data against multiple databases to ensure its legitimacy;
The lead is ranked via our proprietary algorithm and is discarded if it fails the minimum threshold;
The lead is evaluated for its value to our financial partners and is discarded if it fails the minimum threshold;
A daily lead audit is undertaken by an analyst to ensure the lead has been processed properly; and
A call center concierge verifies the lead and prepares the prospect for live call transfer.
With the addition of this final stage, our process now robustly scrutinizes valuable leads all the way from collection from customers through a live hand off to our financial partners.
Our Process
Once we determined that leads were failing or going into a kind of runaround limbo of callbacks with our financial partners, we began an in depth evaluation to find potential solutions. We engaged in discussions with management of our customer support call center and it became clear that by using our existing service agents, we could develop an advanced training program designed to achieve personal contact with all potential prospects.
To see how it would work to improve lead conversion, we began a trial of the new system on a limited basis using some of our most veteran customer support staff members. These members were instrumental in helping to develop the process as it exists today. The trial period gave us the knowledge necessary to work out a proper set of protocols and to develop an appropriate training program to ensure success in adding the new step to the process. Initial and ongoing training ensures that we keep our call center staffed with the human resources needed to provide an advanced level of support to our varied customer base.
We have been using all six levels of the process long enough to be confident with its across-the-board positive impact on our services. We have made the final layer of quality control a permanent part of our service, and have been enjoying the benefits of improved relationships with our customers ever since.
Our Customers' Results
The modification of our process has produced big changes to both sides of our business.
For our customers seeking loans, we have been able to provide service above and beyond what our competition can offer. Our customers now get personal attention from a highly trained agent, and are passed off only to the institution that can meet their specific needs. Our brand of personal service has been remarked upon with regularity since our implementation of the sixth stage of the process, and our loan prospects have been very vocal about how valued they feel. Our repeat business has also increased measurably since implementing the latest changes.
Our financial partners are experiencing a dramatic increase in conversions simply due to the live nature of the leads we provide. Partners are no longer stuck with the extensive legwork of getting in touch with the prospect. By handing off live leads, our partners save time and enjoy a greater return on the leads they purchase. We are happy to say that our partners have universally praised the change in our process.
A Customer-Friendly Solution
The change to our process has raised the level of our service and did not require any additional work from our customers. Implementing the new process was accomplished nearly seamlessly and our concierges' are now able to direct loan prospects to the most suitable destinations. With this solution in place, our partners have noticed the simplicity when granting loans to prospects who are sourced through LeadsMarket.com.