As noted by Authority Hacker, merchants see an average of 23 percent of their revenues coming from affiliate marketing. And according to Inc., affiliate partnerships drive more than 20 percent of annual revenue for publishers. The bottom line is: Although Pay Per Click affiliate marketing is competitive, there is money to be made in it. So how can you start earning money with PPC affiliate marketing? Follow our tips.
Here's How to Make Money with PPC Affiliate Marketing
Create an awesome website or blog
Affiliate marketing is one of the best ways to make money from your website which serves as your foundation. Your website needs to be filled with great content that appeals to your targets so be sure it:
Provides basic information about your company such as location and how it can be contacted.
Is easy to navigate and loads quickly. Ideally, your website should load less than one second. At a minimum, a website that loads in 2.5 seconds or less is great. The slower the load time, the greater chance you have of losing prospects.
Has enticing call to actions.
Includes compelling imagery.
Is backed by data analytics such as Google Analytics.
Utilize strategies that generate high-quality traffic to your website.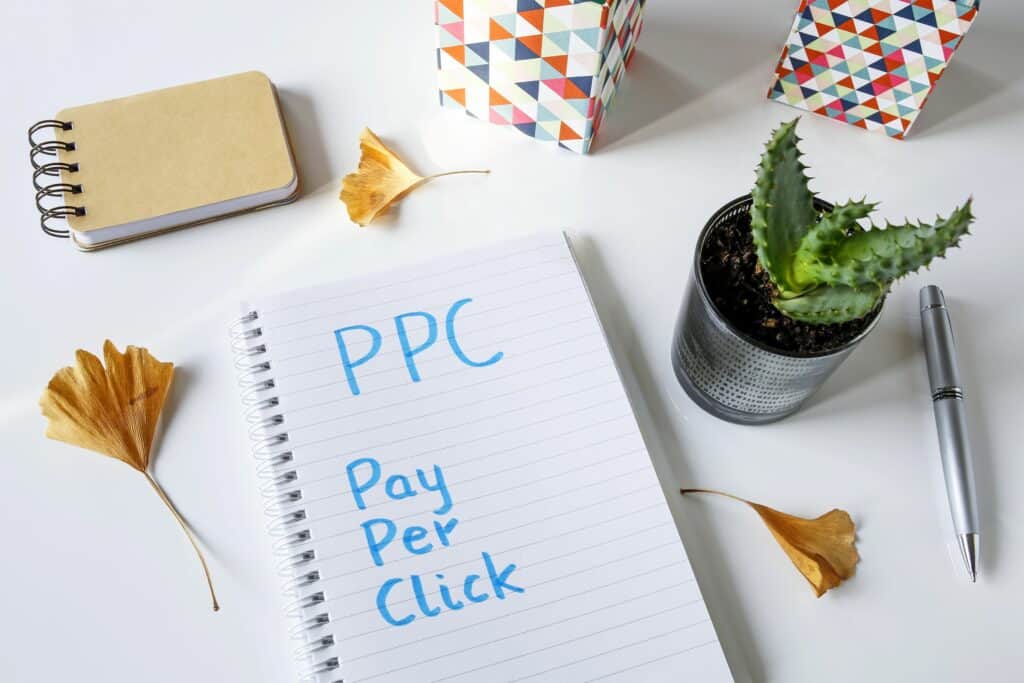 The stronger your website following has high-quality traffic, the greater the opportunity you have to make the most money from an affiliate program due to the number of people clicking on your ads. The first step in generating high-quality website traffic is to understand your targets and their interests, thus, market research plays a big role. What are your targets' needs, likes, and dislikes? In learning about them, you'll be better informed in conducting keyword research to create content that your targets can find and want to click on.
HubSpot suggests utilizing Buy Personas to understand your prospects and customers, defining a Buyer Persona as a semi-fictional representation of your ideal customer based on market research and real data about your existing customers. In addition, HubSpot lists practical ways to gather information on your personas:
Uncover trends in your current contacts database.
Use forms on your website that capture important persona information such as company size.
Talk to your sales team and find out what generalizations they can make about the customers you serve. If your business is brand new, talk to people who have worked in your space before.
Interview customers and prospects about what they like about your product or service.
Other great resources for market research when your business is new are websites that allow you to administer online surveys to their database.
For keyword research, check out Google Adwords Keyword Planner, Google Trends, and MOZ Keyword Explorer. Be sure to utilize search engine marketing and PPC (pay-per-click) programs with PPC ads (read on far below for details) to boost traffic with what you've learned from your keyword tools.
Now that you've done your homework, it's time to start getting into the nitty-gritty of how to make money with Pay Per Click affiliate marketing.
Partner with PPC affiliate programs
PPC affiliate programs work by paying advertisers and publishers (depending on the program) for sending traffic to their website. As an example, although we don't know for sure what he has in place, from the looks of it, Reality Steve appears to have an affiliate program and has said he makes the majority of his income from his website. When thousands of Bachelor fans go to his website every week, we are greeted with a wide array of ads that don't have anything to do the reality TV he specializes in. Reality Steve once said that he does not always know what the ads are, but we do know that they are hard to avoid.
PPC affiliate programs are popular because they are easy to use and work – just set up a code on your website. Check out:
Sell PPC advertising on your website.
PPC advertising (pay-per-click), also known as CPC (cost-per-click) is an advertising model that's used to drive traffic to websites. Unlike organic marketing, advertisers pay a search engine, website owner, or network of websites in exchange for ads that are clicked on. By offering PPC advertising on your website, you can start earning additional income from a separate revenue stream. Unlike Google's PPC ads, your website ads don't need to be restricted to a certain size which gives advertisers more flexibility to get their message across. Offer PPC advertising through physical links, photos, or even video.
Prior to offering this service, determine what your rates will be. Clients will typically pay more for websites that have a high domain authority (65+) and get a lot of traffic (100,000 or more hits per week is a good selling point). You may even choose to have a sliding scale depending on business size. Entrepreneur Yaro Stark recommends the formula: charge x dollar per month, per ad, with x being equal to your daily visitors count divided by ten.
For additional information on PPC affiliate programs, check in with our blog often.